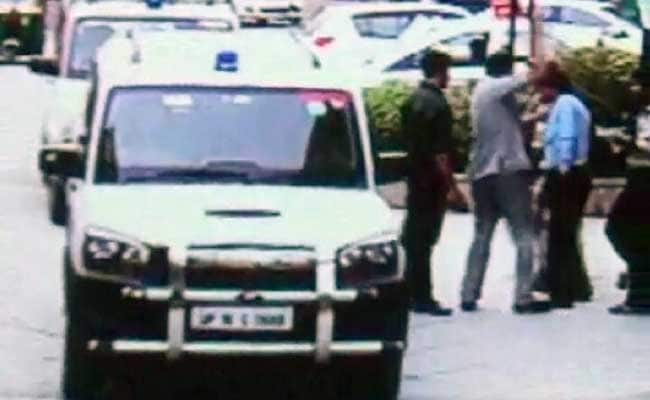 Union Minister Mahesh Sharma's security officer is seen beating watchmen
GHAZIABAD:  A member of Union minister Mahesh Sharma's security detail is seen in CCTV footage repeatedly slapping housing complex guards who had stopped the minister's car at the gates.
[ads2]
"It took hardly two minutes for us to open the gate, still the minister's security thrashed and abused us," says a watchman who was assaulted.
Mr Sharma, the Minister of State for Culture, was visiting his sister at the Ashiana Green apartments in Ghaziabad for the Raksha Bandhan festival on Thursday when the incident took place.
In a video widely shared on social media, the private security guard – who has since been suspended by the minister – is seen slapping and pushing the watchman. He is seen wagging a finger threateningly before lunging at him. He had allegedly demanded to know why the minister was kept waiting despite his beaconed car. When the two other guards tried to stop him, he slapped them too.
"I was not at the site. When I came to know of the incident, unconditionally, without finding out who is guilty, I apologized to the guard and the residents' association," the minister said today, asserting that his car had already driven into the complex.
[ads1]
Residents have complained to the police but no FIR or First Information Report has been filed yet.
"I have gone their more than 100 times…I know the protocol. My security person told the guard that this is the flat number and he is the minister who is going in. Inspite of that he held me, which is fine. Later he permitted me to go," explained Mr Sharma.He said he heard of the incident only when he left his sister's home. "Both are guards. Not so educated. They were fighting. Why drag a minister into this?"
Mr Sharma, 56, says he went to the complex with four more cars and the security guard was in a different car.
According to his aunt, who owns the house the minister visited, the watchman was "rude" to Mr Sharma's staff and also stopped his wife's car from entering.
Comments
comments